Caregiving is usually done alone
A caregiver living with someone who requires full time or near full time care can feel very isolated and lonely. His or her interests and pursuits are no longer possible to do – their entire existence is being a caregiver. Friends and family may stop by for a visit or call but may be of no substantial help. The caregiver may even feel guilty about taking a short break to read or even shower. No one in their family may be interested to hear their frustrations.
If you live in another state or another town, you may still be responsible for your aging parents. This sets up a different kind of caregiving with different concerns. Parents may not tell you what is happening to them or you cannot see the problems for yourself. Trying to change their behavior from afar can seem nearly impossible. You may be on the phone during every lunch hour with a different doctor's office, utility, bank, etc. Sometimes there are no siblings to help or, if there are siblings, either there could be conflict about what to do or the sibling doesn't want to be involved at all in caring for mom or dad.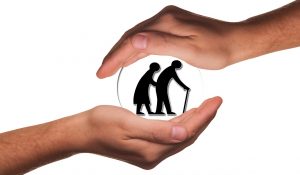 Help is a phone call away
Caregiver loneliness can easily lead to burnout and depression which benefits no one.  It is important to ask for help from others, both physically and emotionally, before it is too late. There are services and support to help you. You just need to be aware of them to access them. For those caring with someone with dementia:
Home Instead and The Alzheimer's Association has a new program for non-medical, in-home respite care for people living at home with dementia in the greater Cleveland area (including Summit County). It is supported by a grant so it is currently free of charge. To learn more about the qualifications call (216) 206-8389 or email caregiverreliefprogram@alz.org.
The Alzheimer's Association also has support groups and a 24-hour hotline for people who need emotional support and resources if they are caring for someone with dementia. 1-800-272-3900. Find a support group: https://www.alz.org/events/event_search?etid=2&cid=139&zip=60614
The Extra Daughter is starting a new program to help caregivers (those caring for those with dementia or other issues) called Caregiver Care. Eldercare professionals will help you come up with solutions to your practical problems (parents not taking care of themselves, continuing to drive, poor nutrition, etc.) but we will also be there as a compassionate voice to discuss your challenges about being a caregiver. We can meet in person or virtually. The program is very flexible, and is billed on an hourly basis. There is no minimum time required. Best of all, you will not feel so alone and begin to see that you have some control. Contact us at (330) 289-7519 or TheExtraDaughterAkron@gmail.com to learn more.
Do not suffer by yourself. There is no benefit to be gained by doing so. If you care for your loved one then you need to care for yourself in order to help them. You are not alone. There are people able to help you.